6 Things you Should Know about Breast Cancer that are Rarely Discussed.
My journey with breast cancer started in 2005, and although I was miraculously cured by a new drug, my battle has never stopped. Being a "Survivor" is a term we hear often, but many don't know exactly what that means. After watching my sister get diagnosed five years after me, I literally had to endure it all again. Here are just six things we had to deal with? I'd love for you to add some of yours?
Sep 24, 2014 - cancersupportcommunity.org -

406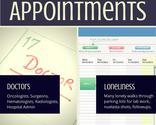 It's just hard to fathom the amount of doctors appointments one has to endure during and after cancer. Friends and family jump in at the start, practically clamped to our legs...thankfully!!! But the reality is that people have to work, and the kids have to go to school, and frankly I felt like I was imposing on people after a while. The initial endless appointments with surgeons, radiologists, oncologists, hematologists, blood labs, ultra sound techs, hospital administration pre certifications...it's everlasting. Then chemo starts, and most of us have at least one person cheering us on during our 6 -8 hour infusion sessions. We dance with our drip racks as we take endless trips to the bathroom to empty the extra fluids. But as the days and months lag on, you start realizing you have to go back the next day to get your neulasta shot. Then you start feeling bad and are beckoned back to the doctor to get extra fluids. Then you have to go to the hospital to get your heart cleared for the next round. Then you go back to your oncologist. Then it's back to get some lab work done to check your markers. In the middle of a regular work week when you are going to the grocery and picking up your kids, or going to soccer games. This repeats...cycle...after cycle...after cycle. It get's pretty lonely. But why point this out. Because it's all worth it! What we have to endure is the key to unlock our chance of survival. It's not stuff we have to go through. It's our lifeline. I grumbled and complained about the two years I had to go get Herceptin intravenously every three weeks, and a heart test every two. It was lonely walking through the parking lots, as visions of my girlfriends having lunch and playing tennis swam through my head. It wasn't until I found out years later that the drug I was be bothered with was my holy grail! It was the greatest gift of aggravation I could've have ever asked for. Thank you Dr. Denny Slamon for creating the drug that bothered me for two long years. I'd do it all again! There are many wonderful support groups to share your feelings with. As they say, No one fights cancer alone. There is no better support than talking with women who have walked this path. Cancer Support Community and My Breast Cancer Team are among a few, where you can talk to other women who are going through the same journey. Don't carry the burden alone. Only "survivors" truly understand!
Jan 03, 2015 - breastcenter.com -

423
For most people, the decision to have a mastectomy can be a difficult one, especially for those women who are told it is their decision whether to do one, both, or none at all. It is usually something that needs to be decided on pretty quickly, which can make it even more overwhelming. At the same time, there are plenty of women like myself, who couldn't wait to have both of mine removed. I just wanted to get the cancer out of me. However, there is not always a lot of time when you get the news to really weigh your options. No one really explains that you are not getting a "boob job", and things are going to end up differently. I feel compelled to share my truth because I know the women I come in contact with, do better when there expectations are realistic. Whether you have surgery first, then chemotherapy, or reconstruction afterwards, the outcome is likely going to end up being the same if you endure radiation on your breast tissue. Your implant can incapsulate,
and the cure for saving your life can sometimes not give you the physical outcome you desire. Not to mention the shape of the rest of our bodies, as we endure more or less of the hormones our bodies are used to getting. Thanks to advancements and new technology, women can achieve greater success than ever before. There are many caring physicians and breast centers around the world where women can get the help they need to achieve a great result. The experts in my area at the Center for Restorative Breast Surgery in New Orleans are pioneers in the world of an array of flap surgeries, and now they offer additional cosmetic procedures to aid with anything from BRCA preventative surgeries to massive skin transplant procedures. They have an informative website where you can educate yourself on all of the options available wherever you reside. The main thing to focus on first is your health and survival, but keep this in mind and make a good plan for your recovery and life after breast cancer while you are going through it. Whatever you do, do not suffer alone; know that there are many things we can do to help us find our new "normal". You can fix almost any deformity with modern techniques and you don't have to settle for something you are not happy with. Check out the resources at www.breastcancer.org for more information on ways to help. In large cities, there are often foundations such as the Cancer Association of Greater New Orleans which creates wonderful programs such as Breastoration. They raise funds from local business and private grants such as Komen New Orleansfor women who need assistance to have procedures done which are not covered by insurance.
Sep 24, 2014 - chemobeanies.biz -

500
Everyone knows you're going to lose your hair when you start chemo, but no one realizes the true burden that it can become. On top of the absolute fear of watching everything you know about yourself disappear in two weeks, you are forced to be brave because you have to live your life. Everyone thinks just wearing a wig will solve our problem, but they never understand how hot and uncomfortable they can be. Not to mention that you feel like you're are hiding your true self underneath. Finding the right head cover during my struggle was demoralizing and emotionally difficult. Five years after undergoing chemotherapy, my sister received the same news, and we decided to help ease my sister's stress about her hair loss by creating a simple, stylish, slip on head cover called Chemo Beanies. Women should be free to focus on their healthcare, not their head wear. I know I wasn't in the mood to go shopping at different department stores for the perfect scarf, that I truly didn't know how to tie, and wouldn't stay in place anyway. We feel very blessed to be able to turn our struggles into something that will give other women courage to not go though this alone. Of course there is a myriad of choices out there to help you find the appropriate cover up for you situation, and some women love to go bald. We support the idea that you find lots of things to make your journey simpler, and make you more comfortable in different situations. A great wig, a sassy hat, or a funky wrap can all be joyful to wear. We designed this for women looking for a simple solution that is effortless, and affordable enough to acquire lots of colors and textures to make coordinating with their daily outfits, a simplier process. Chemo Beanies is a simple, slip-on, effortless design to ease the burden of baldness for you. Because survivors ourselves, we know that courage is always in fashion!
Sep 22, 2014 - lymphedivas.com -

475
No one talks much about this one because most of the medical world in past years didn't see much of a solution or cure for it. Physical therapy and wearing compression sleeves are a good place to start. One thing that's important is to know tstop it from happening in the first place. It's good to read up on some prevention techniques and buy a good sleeve. Juzo and Jobst make medical compression sleeves, and there are companies like Lymphediva who have gone over the top to make women smile with some fun and funky styles to make it easier to cope and even open up lines of communication with other to raise awareness. There are also some wonderful foundations out there who are making great strides to support women through this issue. Lymp Net is great for that. The Center for Restorative Breast Surgery doctor's are in the top 5% of reconstruction surgeons in America, and they are pioneers in a new procedure for lymph node transplants, bringing new hope to women who suffer from this debilitating condition.
Jan 03, 2015 - cancer.org -

406
"Chemo Brain" is a real problem that never really had a name until recent years. It's important to keep in mind that memory problems are a normal part of aging, and studying the complexities of the brain with, or without chemotherapy is already illusive enough. The American Cancer Society has some great information on Chemo Brain, and it is worth the read to find out what you may be faced with after chemo or may be going through now. My sister and I both face great issues with our short term memory, but there are definitely ways to cope. The first step in dealing with the issue is to acknowledge what it is. Then come up with systems to help you remember things. Also, the people I love know they have to tell me something at least three times before it will really sink in. I make them send me things in writing by text or email. There are some indications for using A.D.H.D. medications to treat severe cases of memory loss, as well the strides that are being made to treat Dementia and Alzheimers patients. Take the time to discuss any possible options with your doctor to see if your are a candidate. If all else fails, it makes a great excuse if you forget your anniversary!
Jan 03, 2015 - lookgoodfeelbetter.org -

471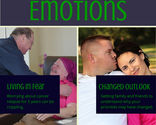 Being a "survivor" is truly something special that only those of us who have been through it understand. Anyone who goes through breast cancer, even those who live with metastatic breast cancer, want to be known and counted. I think it is imperative to start discussing the emotional side of breast cancer before we ever take our first dose of chemotherapy. It doesn't matter if you consider yourself strong, weak, mentally healthy, or whatever, battling breast cancer is challenging. We are told to be strong and start out that way, but it's a long battle, and everything you know about yourself changes. Those around us who are there to support us are going through something too. Your husband, your children, your mother, your best friends, and even your neighbors were diagnosed with breast cancer when we were, except they don't get the support. We want to be strong for them, but we are sometimes burning with a myriad of emotions inside. Don't be afraid to confront those feelings and don't be afraid to ask for help. Everyone focuses on helping the new patient and showers them with aid, but once chemo ends, the world thinks we are done, and they just want the old person back. The truth is, we will never be that person again. We have climbed a treacherous mountain and come down a different way. It's just something we have to come to accept, and once we do, we can live with it. When I'm honest with women who ask me, I tell them that year two is actually the hardest year. Because you can just get out of the chemo chair and snap back into place. Know you are not alone and take steps to keep your emotional side healthy. You and your family and friends will be better for it understanding this. Get lots of support from those in your community. Take time to locate and find a Look Good, Feel Better session at your local hospital where other women come together, and volunteer caregivers will give you tools to improve your self-esteem and appearance with free wigs, scarves, and makeup. The 25 year old program is a must for a healthy mindset too. Also Living Beyond Breast Cancer is another great resource to help you find ways to live life better during and after cancer! You are never alone. Be well!